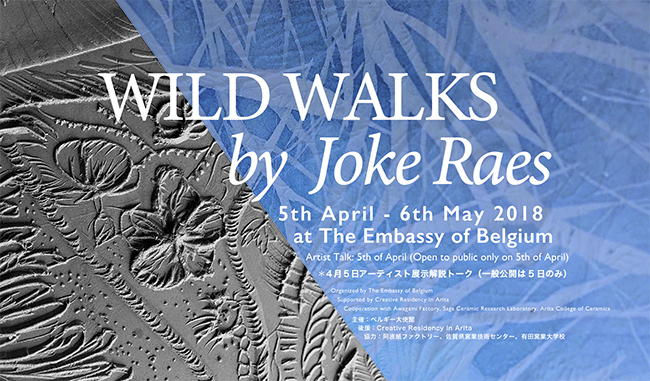 Exhibition: WILD WALKS by Joke Raes
2018 March 18
We are happy to announce that the Embassy of Belgium will be presenting works by Joke Raes. The Embassy's Art Space will not be open to the public, however, the works will be presented to VIP guests at certain select gatherings or parties. However, on April 5th, the Embassy of Belgium will hold a small talk event for invited guests.
At this talk, Joke will introduce how the project developed over the course of a two-month residency programme in the historical town of Arita, where the first porcelain was produced in Japan. She will talk about the story behind her work, as well as her own perspectives on tradition, craft, art, history and culture as gained through her personal experiences during her residency.
For more about the artist and her works please check her profile on the "residents" page.
For enquires regarding the artist's talk please contact: creativeresidency.airta@gmail.com