Viktor Hachmang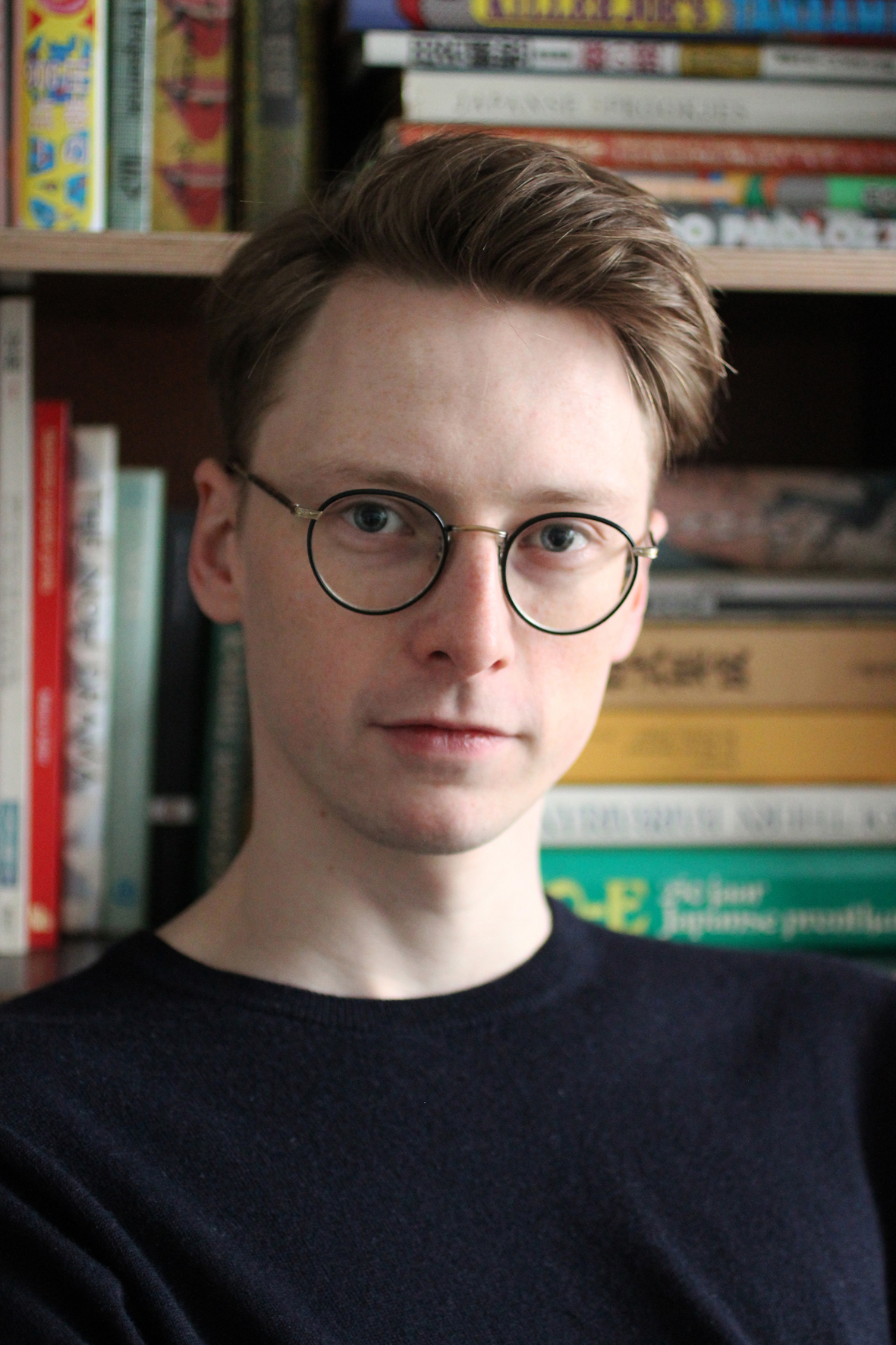 Viktor Hachmang is a Dutch designer, illustrator and experimental comics artist. Although trained as a graphic designer at the Royal Academy in The Hague, Hachmang gradually grew into illustration and visual storytelling. His primary sources of inspiration are Ukiyo-e and the European Ligne Claire tradition of comic strips.
Alongside his own autonomous graphic work, Hachmang also works with a wide variety of international clients, ranging from editorial heavyweights (The New York Times, Bloomberg Businessweek, MIT Technology Review and Wired) to luxury brands such as Kenzo Paris, Diesel and Lacoste. Recently, Hachmang has specialized in making experimental comic books and graphic novels, seeking to blur the boundaries between autonomous art and the comic strip. In 2016, he made his debut with the short story Book of Void (published by Landfill Editions, UK) and 2018 saw the publication of a large graphic novel, Blokken. Hachmang's work is exhibited regularly, both nationally and internationally, and can be found in the collection of the Stedelijk Museum, Amsterdam. 
Project in Arita
Title : "Intruder" "Tsuyu Plate Series" "Thieving Magpie" and "Tenshsa series"
Period of Residency : June - August
Collaborator : Gen'emon Kiln
Sponsor : Creative Industries Fund NL
Viktor Hachmang collaborated with the famous Gen'emon kiln. One design directly echoes a Nabeshima ware plate from the Edo-period, albeit with an unexpected twist.It prominently features a tortoise shell pattern with an intertwined mukade, the ferocious Japanese centipede that is very common on the island of Kyushu. This creature is considered a real life yokai and it's notoriously hard to kill. This is probably the reason why the mukade came to symbolize evil in Japanese art.This mukade however is also a self-portrait of the designer, symbolizing his objective to try and worm his way into Japanese aesthetics during his three month residency in Arita. The design was expertly translated to Arita-yaki by the Gen'emon team.
The Tsuyu Dish series is traditional in the sense that it infuses Japanese art and design with seasonal references. Paying homage to this convention, this design tries to convey the spirit of the Japanese rainy season (tsuyu) in manga form. The Japanese language employs many different sound effects for specific types of rain: hence the manga style onomatopoeia featured on the plate.
For this serie of 10 unique plates Viktor's "Tsuyu" design is transferred to an existing shape from Gen'emon's range of traditional products. The flower shape refers to the kiln's rich history, the "Ume" (or plum blossom) motif being one of the key characteristics of Gen'emon's output. The designer gave Gen'emon free rein to decorate the outside in any way they seemed appropriate, for which they selected their famous "Ume" surface pattern.
Tensha series (transfer prints) - produced by the designer himself.
The starting point for these works are madori ("windows"), a distinctive feature of many Arita-Yaki pieces. Coming in a wide variety of shapes, madori are frames that contain graphic elements, patterns or illustrations. Madori are frequently combined with other madori, making it a suitable device to tell complex stories within one graphic composition – an anticipation of manga, in the artist's opinion. Hachmang's madori are filled with illustrations based on his direct surroundings in Arita, drawing inspiration from classical themes as well as the everyday, such as supermarket products and roadsigns. The designs of these plates are made using collage techniques: the artist transposes the production method of his comics (using hand-cut screen tone foil) onto ceramics. Hachmang's illustrations were printed onto tensha (ceramic decal) sheets using silkscreen and are rearranged by hand onto the porcelain surface, thus creating unique one-of-a-kind pieces using a technique originally developed for mass production. By freely collaging and combining illustrations, abstract stories enfold, juxtaposing old and new, East and West!
Interview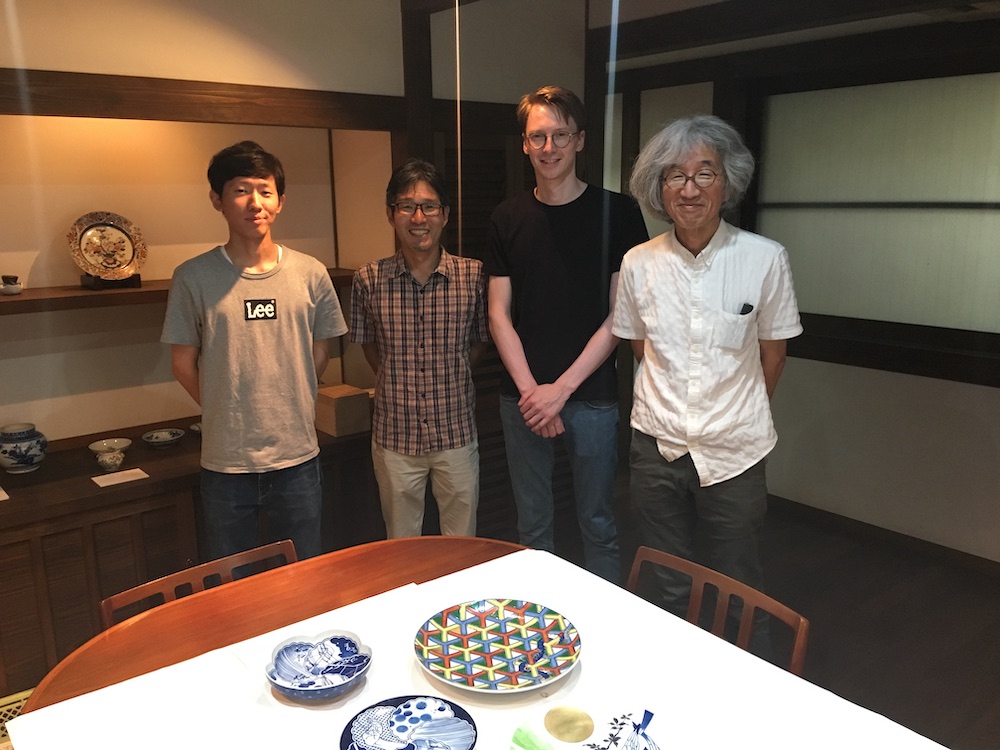 Gen-emon kiln was established 260 years ago in Zemeki, Arita. Throughout the years, Gen-emon kiln has preserved the tradition of "Old Imari" by producing beautiful porcelain which has attracted people of various times . During its long history, there have been hard times such as the Meiji restoration and World War Ⅱ.
The war time was particularly hard because the entire nation was involved in national defence activities under a controlled economy.
However, Gen-emon kiln was designated as an authorized kiln to produce artistic porcelain. Under the circumstances, Gen-emon V devoted himself to studying industrial ceramic arts, and he succeeded in maintaining the tradition of Arita porcelain by improving conventional techniques and designs.
Coming through the postwar confusion, Gen-emon Ⅵ expanded the traditional techniques of Gen-emon kiln further by developing and producing restaurant tablewares as well as artistic porcelains. Later, he shifted his emphasis and started producing household tablewares.
He wanted to make the beauty of "Old Imari" more reachable in household tableware, in order to encourage more beautiful and creative lifestyles, thus dedicated his life to the restoration of "Old Imari" by putting household tablewares into new perspectives.