Guanlin Wang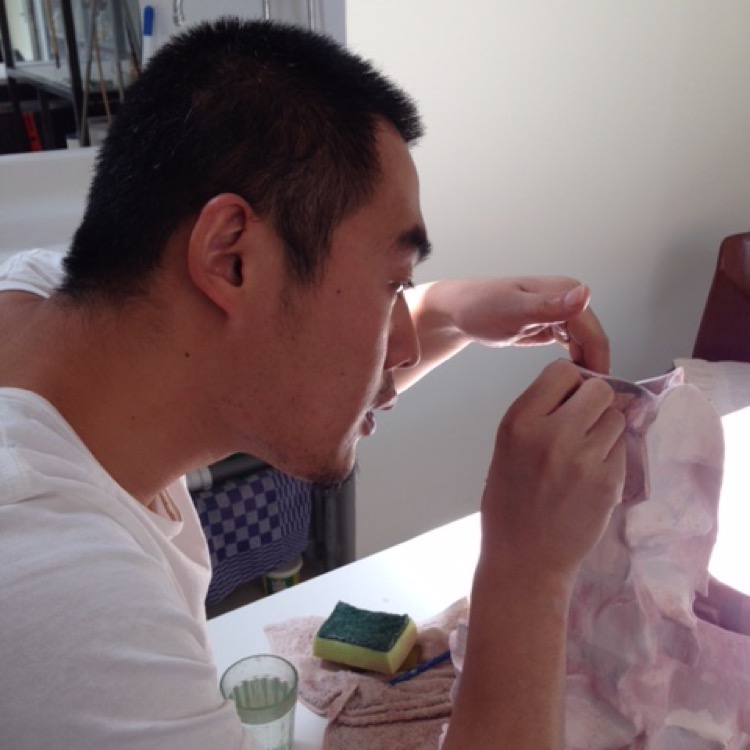 Guanlin is an assistant supporter and coordinator of JAEA International Art Center in Jingdezhen in China. He was sponsored by European Ceramic Work Center in Holland and sent to Arita to research the potential of Arita and possibility of collaboration with JAEA International Art Center.
Project in Arita
Title : Possibility of Arita ( Research )
Period of Residency : January - March
Sponsor : European Ceramic Work Center
Report by Guanlin after two months of Arita Residency Programme.
Arita is a place that is full of mystery and yearning. Before heading off, many people told me that the town is very similar to Jingdezhen which is famed as the "Porcelain Capital"of China due to its 1,700 year history as a town of pottery productione. As the birth-place of Japanese ceramics, Arita truly lives and breathes porcelain. Therefore, I was eager to embark on my own personal journey here with awe. Fortunately, as an exchange program between Japan and the Netherlands, I have the oppor-tunity to study at Arita. In a period of one and a half months. I conducted a lot of study and research on the Arita ceramic culture and conducted experimental creations. Go deep into the artist's studio, production factory, and young craftsman workshops to ex-change and study. Learn about different craftsmanship and production methods, both traditional and modern. My one-and-a-half-month residency here gave me a deeper un-derstanding of the town and I gradually came to be deeply impressed by its inherent charm.Arita and Jingdezhen are both a city of porcelain. There are many similarities. Superb painting process. Traditional firing process. serious working attitude. However In fact, the biggest difference between the two places in my opinion is the enthusiasm of young people for ceramics. The degree of openness of the international vision is different. Ceramicsare common heritage in the world. In Jingdezhen, tens of thousands of young people come here to study, live and work. Jingdezehn lets this ceramic city be full of energy and strength. Jingdezhen is the world's of ceramic, and Arita should be the world's rich field too. I think more of the indispensable is the strength of young people. They are full of passion and full of vigor. They will be the hope of Arita's future, I think Arita should let more young people go out and let outside people walk in. Constant exchanges and learning to reshape the glory of Arita.I thought Arita is a perfect place for designers and it is a place where you can create high quality porcelain products. There is good technical and production support provided by rigorous and focused specialists. I think this is my deepest impression of Arita. Here youcan see the centuries-old traditional family-style model of production that has been re-tained in the porcelain industry of Arita. This way of life is also being preserved by a young-er generation which is choosing to fight for their creative dreams.As the porcelain capital of Japan, I think the town and its citizens are embarking on a great mission and bear a crucial responsibility at the same time. How to let Arita forge ahead on a new journey of glory? I think that the strength and determination of the young people of Arita will be indispensable. They are full of passion and vigour. They will be the hope for the future of Arita, so it is vital to let more of the young people broaden their horizons outside of the town while welcoming new blood and creative vision into this society. Fresh exchanges and continual learning will be the ways that reshape the glory of Arita.I am grateful to Arita for giving me the opportunity to both study and create here. I hope that I can return to Arita again in the future and help the town in some way on the world stage.