Heringa / Van Kalsbeek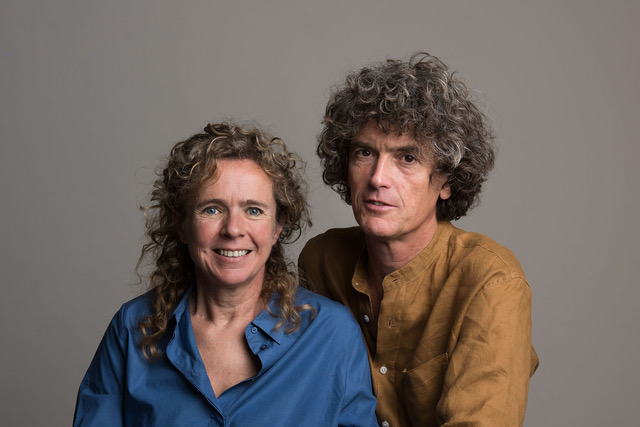 Since Maarten Peter Van Kalsbeek and Frederike Cornelia (Liet)  Heringa student days at the Rietveld Academie Amsterdam, they have regularly worked together. Since 1998 they have officially operated as 'Heringa/Van Kalsbeek'. Their sculptures evolve out of a process of action and reaction: one continues where the other stops. They work with different kind of materials; ceramics, resin, textile, bronze, polished stainless steal and found objects. Their work is often shown in modern art musea, for example in Germany, England, Italy, Korea and of course in The Netherlands where they are based. The artists duo has had solo exhibitions in the Kröller Müller Museum, Otterlo, Haags Gemeente Museum, The Hague. In  Heringa / Van Kalsbeek solo exhibition Cruel Bonsai in the Stedelijk Museum Amsterdam (2007-2008) over 20 works were presented, in our solo exhibition Night Catch, Stedelijk Museum 's-Hertogenbosch (2014-2015) over 20 ceramic works were exhibited together with bigger sculptures made out of metal, paper and resin. Since 1994 they have realized works in commission for clients as; the Central Government Real Estate Agency, Arcadis, Abn Amro Bank The City of Breda. Their latest outdoor project is commissioned by the city of Amsterdam and installed in 2018 in the Beatrixpark, Amsterdam.
That static visual art can also look like a living natural phenomenon is evident in many works by the artistic duo Heringa/Van Kalsbeek. For their co-productions Liet Heringa (1966) and Maarten van Kalsbeek (1962) have officially operated as 'Heringa/Van Kalsbeek' since 1998. The sculptures by Heringa/Van Kalsbeek often look like exotic plants with exuberant flowers, unimaginable animals or mysterious headdresses. The work by Heringa/Van Kalsbeek is a play of surfaces, stripes, spots and lines. Plants, branches and flowers, real or cast, are often combined with found objects which are recycled in their work. This goes much further than conventional sculpture. They are three-dimensional paintings.  How the construction is built up is demonstrated honestly, everything is open and naked to the eye. What you see is what you get. And yet that is also not so. This is because the baroque multitude of detail and the accumulation of visual surprises do not allow a complete revelation of the mystery. And so you keep looking.
Project in Arita
Title : Autumn Sorrow
Period of Residency : September-November
Collaborator : Fukusen Kiln
Sponsor : Mondriaan Fund
The artist duo Heringa / Van Kalsbeek fulfilled a long time wish to come and work in Japan as the interaction between Asia and Europe has been an inspiration in their past work. During their working stay in Arita they made a series of objects reflecting the structure of Japanese Buddhist images. The pedestals were created in cooperation with local students using porcelain clay on the wheel. Furthermore, a special clay was used to create the standing shapes of the objects as traditional Amakusa clay is easy to deform in the high fired ovens of Arita. Heringa / Van Kalsbeek used various local glazes to finish their objects after meticulous testing to investigate the reaction of different glaze combinations in the kiln.
The autumn in Arita was an important theme for their works. The relation between front- and backstage is explored in their objects and the Japanese inscription of Autumn Sorrow on the back refers to the beauty in decay which they encountered throughout their stay.
Cooperation with Fukusen Kiln
The duo made three objects in cooperation with the craftsman Koji Shimomura of Fukusen Kiln. Their traditional plate depicting a wave was the starting point for these works. The objects of Heringa / Van Kalsbeek were partially painted with these waves and then partially glazed.