Joke Raes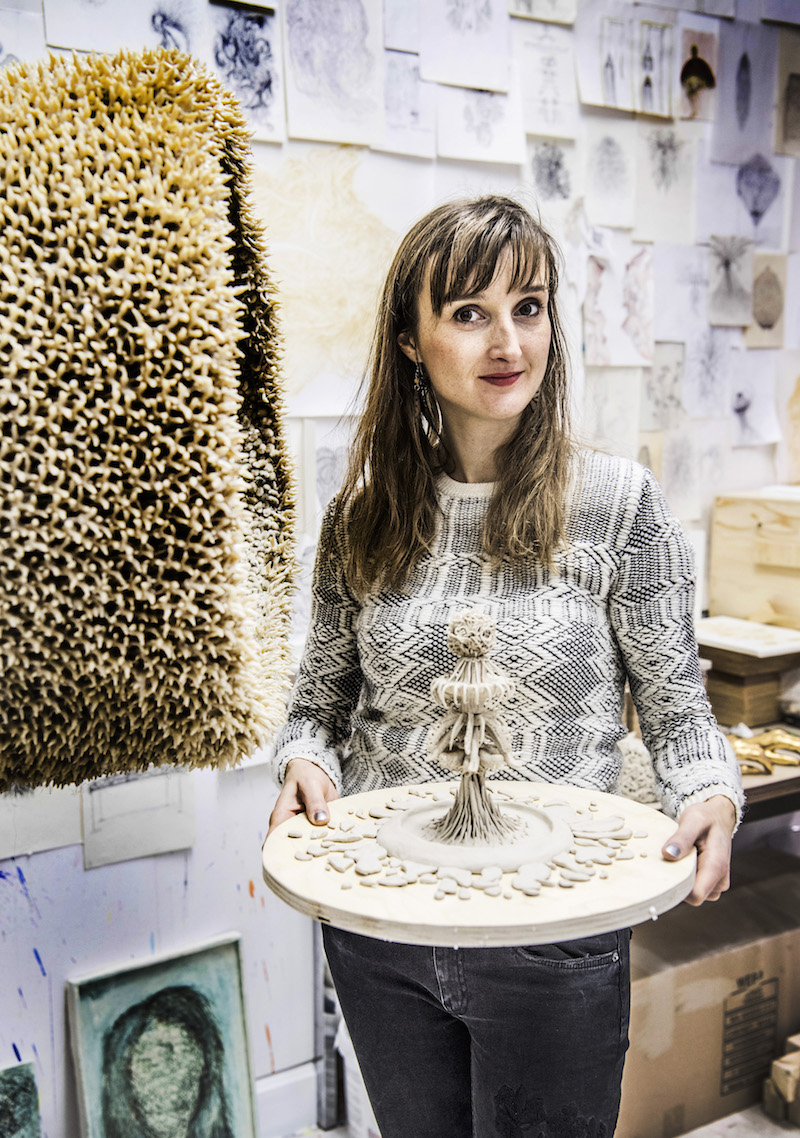 After having studied visual arts at both Ghent University and HISK (Belgium) Joke Raes has explored a wide array of media in her artistic explorations to date and is rapidly building an eclectic body of work that is rooted in reality yet remains intangible at the same time. Her drawings, sculptures and installations seem to come about without any effort but closer inspection reveals a dizzying level of detail: each work has been crafted with great care, suggesting an obsession with the surface and all that lies beneath. Everything is clearly structured, finished into shapes that allows the viewer to construct their own story. Several formal themes can be discerned in her work, like the imaginary line that divides an assemblage or drawing in two halves or corresponding spheres. A prominent place is reserved for the imaginative botanical forms that she is drawing, lasering, moulding, knitting and assembling.
Raes worked in the theatre for several years as a designer and performer but she gradually found her place in the visual arts following an under-water exhibition in the Red Sea and a residency among indigenous people living deep inside the Peruvian Amazon. These days, she frequently exhibits in Belgium and abroad. In 2017, Raes realised her first large public art commission for the Alma General Hospital in Eeklo. Two textile banners measuring six by sixteen meters each decorate the atrium and a series of large lenticular prints shorten the time spent waiting in 27 rooms divided over several wards. In the last few months she developed ceramic works as an artist in residence at the European Ceramic Work Centre (EKWC), The Netherlands.
Project in Arita
Title : WILD WALKS
Period of Residency : February - March
Sponsor : Self-founded
Joke Raes developed Art works that are related to her imaginary walks behind and before her eyes in Japan. Starting from observing her own inner garden and she step-in the unknown nature in Arita. Then she externalized her observations of imaginary walks by sculpting plaster plates as if she draw a map. Then she pressed porcelain clay against the plaster plate to trace the map They are resulting in 9 souvenirs ( porcelain plates ).Previously she started to develop porcelain masks in EKWC (European Ceramic Work Center) In Arita she continued experimenting on this theme. Several masks arose that are connected to the questions about our identity. After she experimented with several clays and it shows surprising organic result where the artist organic characteristic signature combined with the unpredictable character of the colored porcelain and crystal glaze. The colors in the works represent different existential moods. Joke also worked together with local craftsmen that are specialized in mold making, glaze developing, and traditional painting. She made tea cups for a social action. When you come together to drink cup of tea, each cups are gathered and will make as one form. She used several techniques such as Arita traditional painting technique called "Sumihajiki" , which is the ink (charcoal) used to draw lines will be fired out in a kiln. Her sensitive works brings the inside imaginary world with full of murky depths and beauty to the surface.
These works will be exhibited titled as "Wild Walks" at the Embassy of Belgium in Tokyo (5th April till 6 May). She will also represent them in a presentation 13 April in Kyoto Art center.